Fluoro-Seal Fluorination Treatment of Plastics
Many strong solvents and aggressive chemicals cannot be stored in plastic due to permeation, evaporation, softening and attack. Bettix fluorination could solve your problems - pushing the traditional boundaries of how and where plastic containers are used.
Bettix Ltd, Bolton was the first post-moulding fluorination barrier treatment plant in Europe, built under licence from the USA.
It has long been accepted that a fluorination barrier to polyethylene and other polymeric materials renders them resistant to attack and resulting permeation by a range of aggressive chemicals. The unique FLUORO-SEAL process by Bettix ensures uniformity of fluorination treatment which can be particularly important around the neck area and protects the container exterior from splashes and drips.
No Restriction on Size, Shape or 'Choice' of Container Manufacturer...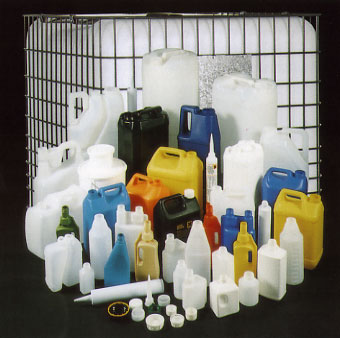 Substances that have been traditionally stored in expensive glass or metal containers because of the low resistance of polyethylene and polypropylene, can now be packed into plastic containers as a result of Fluoro-Seal fluorination surface modification. Fluorination is especially suitable for the following:
Agrochemicals
Automotive additives
Car care products
Cleaning fluids
Degreasers
d-Limonene
Essential oils
Flavours / Essence concentrates
Fragrances
Fuels
Insecticides
Lubricants
Paint thinners
Polishes
Solvents
Toluene
Waxes
Wood preservatives
Shapes and Sizes
Stackable and straight sided PP pails and pots along with their lids can be Fluoro-Seal treated to gain the same benefits as PE bottles. The current size ranges from 1000 litre IBC's to 10ml vials plus their caps. We are also able to fluorinate complicated technical mouldings.
How Fluoro-Seal is Performed
Items to be treated are sealed in a vacuum autoclave on our Bolton site and exposed to measured amounts of elemental fluorine gas under tightly controlled conditions. Following treatment, the autoclaves are evacuated to high vacuum and purged with filtered fresh air to ensure the removal of all reaction residue.
Fluoro-Seal is Permanent
The fluorinated layer is not a coating or lacquer; it is a chemical conversion of the existing surface and as such is atomically bonded to the parent plastic. The treatment is permanent and the layer is not readily removable nor does it become unbound with time.
Plastic container manufacturers can now offer their customer a ready treated fluorinated container of their choice, through the Bettix Fluoro-Seal process. Customers can forward items direct to Bettix for treatments if preferred.